Home
Main content starts here, tab to start navigating
Slide 1 of 7
Slide 2 of 7
Slide 3 of 7
Slide 4 of 7
Slide 5 of 7
Slide 6 of 7
Slide 7 of 7
Make a reservation today!
To make a reservation, please call (239) 887-4940
or visit OpenTable!
Take Out & Curbside Service
If interested in placing a takeout order or curbside service, please call us at (239) 887-4940
E-Gift Cards Available!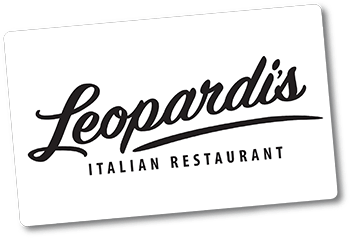 Give the Gift of Leopardi's
with a Gift Card!
Gift cards available online and at restaurant.
Private Events
Leopardi's can host all types of events such as birthdays, office parties, Christmas parties, baby showers, christenings, anniversary dinners and more. Enjoy our outdoor patio space for your event as well. Click the button below to learn more
Learn More